Marineliens.com sends our e-newsletter each month to approximately 300,000 marine industry professionals.
Attachment of Maritime Lien for breach of charter party

A lesson in admiralty law was provided by the U.S. Court of Appeals for the Fifth Circuit when it ruled that a maritime lien for breach of a charter party attaches when the vessel is placed at the charterer's disposal. In the instant case, a vessel owner entered into a time charter and accordingly delivered the vessel. The vessel was then sold to a third party (subject to the time charter) and the new owner obtained a mortgage loan on the vessel. The bank providing the loan duly recorded its preferred ship mortgage. Soon thereafter, the new owner breached the time charter and then defaulted on the mortgage. Both the bank and the charterer sought to recoup their losses by having the vessel sold, but the proceeds were not expected to cover both claims. Therefore, the priority of the two liens became paramount. The bank asserted that its lien took precedence as its preferred ship mortgage was recorded before the time charter was breached. The court held that the maritime lien for a charter attaches when the vessel is placed at the disposal of the charterer, even though it remains inchoate until a breach arises. Thus, since the charter commenced prior to the vessel sale, the charterer's lien prevailed over the preferred ship mortgage.
Source:
Dennis Bryant
, HK Law
Can we apply these sleep studies to the dog watch

Researchers study crew rest to optimize performance By Staff Sgt. Jason Smith, 437th Airlift Wing Public Affairs CHARLESTON AIR FORCE BASE, S.C. (USTCNS)---
Crews from each of Charleston's active-duty airlift squadrons are undergoing sleep research in hopes of finding the perfect sleep schedule for future missions. Researchers from the U.S. Air Force Lab, Brooks Air Force Base, Texas, and the Air Force Operational Test and Evaluation Center, Kirtland AFB, N.M., are conducting the sleep research during real-world missions flown by the 14th, 15th and 17th Airlift Squadrons. Some of those missions will be in support of Operation Enduring Freedom. Dr. Bill Storm, senior research scientist from the Air Force Lab, said sleep research for the Air Force is not new. The Air Force has been conducting sleep studies for more than 25 years, and Storm worked with CAFB C-141 crews in the 1970s and 1980s. He said the reason for his current visit is to look at a new software program called the Fatigue Avoidance Scheduling Tool. "FAST allows us to take the work schedule of a security force member or pilot and compare it to their sleep schedule," said Storm. "We can look at a particular mission and say, 'Here's what time the drop is. If you take a nap at this particular time in the mission, you'll be at your maximum performance capability for the drop.' "Seldom can we say, 'That's a bad time to bomb,'" continued Storm. "My philosophy is that any sleep is good sleep. However, there are certain times during the duration of a long mission when you'll get a more restorative sleep at one point in that mission than another." Knowing when crews need sleep and when they will be at their maximum performance level is based on the Circadian Rhythm, according to Storm. Everyone has a Circadian Rhythm, or body clock, that runs for about 24 hours. At about the 18-hour point of being awake, a person will start to experience performance deficit. "At 18 hours, you'll start feeling tired, like you need sleep," Storm said. "There's a reason for that. Your Circadian Rhythm is on the downside. You will start having reaction time problems, and if you stay awake that whole first day, your performance will drop by 20 or 25 percent." A person needs between 7.5 and 8.5 hours of sleep every night, according to Storm. He said a lot of people get by on 6 hours regularly, and because of the lack of sleep, they're not performing at their maximum level. Overseas missions also greatly affect the performance of aircrews because of the difference between a crewmember's body clock and the cultural clock for the area they may have to fly to. According to Storm, it's not practical for an aircrew member to try to adapt to a new area's cultural clock. For instance, it would take a person about six days to prepare their body clock for Germany's cultural clock (about one hour of adjustment per day.) Since most crews don't have six day's notice, and since adjusting a body clock involves things like blackout curtains, Storm said it's best just to get as much sleep as possible before departing CAFB. The FAST software being studied here will account for things like sleep attained prior to departing CAFB. Storm said the sleep schedules of the aircrews being studied are recorded prior to leaving for a mission. During the mission, crewmembers wear actigraphs, watch-like sleep monitors, to record the times they are asleep. When the crews return, information from the actigraphs is downloaded into the software. "Pilots are also completing a vision reaction test three or four times each day," said Storm. "The test is very sensitive to tracking sleep loss." Currently, a researcher is flying with each of the crews to help measure sleep patterns and recommend prime times to nap. Storm said the researchers are traveling with the test crews as they fly to Germany to take part in Operation Enduring Freedom missions. Eventually, Storm would like to see all the research pay off in the form of user-friendly software that flight-planning officials can use while scheduling missions. With a few keystrokes, FAST should be able to list the best times to sleep during any mission and what a person's performance level will look like if they follow the recommendations. The CAFB crews taking part in the study have been more than cooperative, according to Master Sgt. Michelle LaCasse, AFOTEC test manager. She said although the study has meant imposing on the crews and asking them to do extra work, everyone has been friendly and willing to help in any way possible. LaCasse, who personally served as a C-130 and E-4 crewmember for 14 years, said the researchers have done their best to educate the crews on exactly what they're studying and how they hope FAST will pay off for crews in the future. Researchers will return to CAFB in 60-120 days to present their findings to base officials. (FROM AIR MOBILITY COMMAND PUBLIC AFFAIRS)
Notice of Maritime Liens
If a buyer buys a boat not knowing it has a claim of lien against it, it does not mean the lien goes away. It means that the boat has a claim against it and that the vendor at some time in the future may choose to act upon it by pursuing the arrest and sale of the boat to satisfy the claim.
We continue to receive questions regarding the posting requirements of maritime liens. Bear in mind that a lien exists the moment supplies are delivered to the vessel or the work is completed. As a general business practice a supplier may give a customer 30 days to pay in which case the lien remains open for the 30 days or until paid. Most vendors will not start collection processing before 90 days. The lien exists regardless if it is posted for the world to see. If a buyer buys a boat not knowing it has a claim of lien against it, it does not mean the lien goes away. It means that the boat has a claim against it and that the vendor at some time in the future may choose to act upon it by pursuing the arrest and sale of the boat to satisfy the claim. Liens are not extinguished by transfer of ownership.
Vendors that service or supply a vessel may choose as a business practice to post their claim on the Marineliens.com site until the invoice is paid thereby using the site as an accounts receivable tool. This practice will help buyers and lenders know of the claim and enable them to contact the vendor for settlement and release of the lien during the "closing" process.
United States navy helping with micronesia cleanup after typhoon kills 37
USTRANSCOM planning disaster relief from typhoon
By Maj. Scott D. Ross, U.S. Transportation Command Public Affairs SCOTT AIR FORCE BASE, ILL (USTCNS) --- U.S. Transportation Command is planning and coordinating the movement of relief supplies in the wake of a typhoon that swept through the pacific islands last week. Friday, Typhoon Chata'an hit Guam with winds exceeding 90 mph after passing through the Federated States of Micronesia where 37 people were killed and more than 100 were injured. Navy Lt. Cmdr. Bob Costello, an action officer at USTRANSCOM for the Pacific region, said he anticipates movement of supplies within the next 72 hours. Weather in the area is making relief efforts difficult. Typhoon Chata'an is just one in a series of severe storms threatening the Pacific. As planning continues, Tropical Storm Halong is expected to intensify to typhoon strength before reaching Guam. The Federal Emergency Management Agency has requested Department of Defense help in the relief efforts. Costello is coordinating with officers from the U.S. Pacific Command to move relief supplies from Hawaii to Andersen Air Base in Guam, and then to Chuuk, one of four island states belonging to the Federated States of Micronesia. Chata'an dumped heavy rains on Chuuk, about 1,000 kilometers southeast of Guam last Tuesday. Lynn Narruhn, a spokesperson for the Micronesian government said most of those who died on Chuuk were buried in about 30 different landslides that covered almost 1,000 homes.
Marineliens.com enables affordable arrest process

Marineliens.com has upgraded the site to enable claimants with small claims an affordable means to the costly arrest process. The site will notify existing vendors, who have claims posted on the site, of every new claim that is posted against the vessel on which they have a claim. Once a vessel has enough liens against it, all of the claimants can join together and co-op the costs of the arrest process. i.e.; Claimant A posts a claim for $3000 on Marineliens.com site. Later Claimant B posts a claim on the marineliens.com site. When Claimant B submits the claim for $10,000 the site automatically sends a notice of the claim to A. Later Claimant C posts a claim for $10,000 and automatically sends a notice to Claimants A and B and so on. With 3 Claimants sharing the expense of the arrest process it may become affordable to each. Each claimant would share in the proceeds of the sale of the vessel and recoup all or a portion of their receivable depending on the amount of the proceeds after the court expenses etc are paid. To become more familiar with this concept one may wish to consult an attorney.

The cost of posting a claim on the site remains $0. Marineliens.com receives income from searches only.
Engineered for a mission

Karl Holmes, from Melbourne, has been dreaming of the Melbourne/Osaka two-handed Yacht Race since the event started in 1987. He finally set his dream to reality by commissioning Kevin Dibley to design a new boat "Babe" (Dibley 9900) and getting Hart Marine in Melbourne to build her. Dibley, a yacht designer from Auckland, New Zealand, will step in as co-skipper for this 5,500 nm (10,200 km) marathon.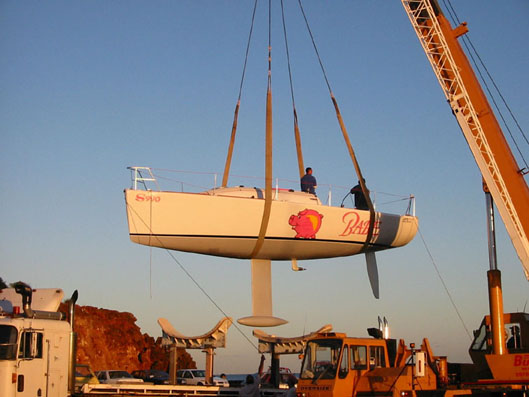 Name of boat:
Babe
Nation:
Australia
Class:
Racer Group Class C
LOA:
10.02m
Displacement:
2,500kg
Designer:
Kevin Dibley (New Zealand)
Skipper:
Karl Holmes (45) Australia
Co-Skipper:
Kevin Dibley (37) New Zealand
'Babe' will race in the Racer Group of Class C. Due to restrictions in that class, she will not race with water-ballast though she has been designed for that option when other races allow it. The brief was for an exciting high performance racing yacht that combined dinghy like performance with Offshore Racing capabilities. With the homeport being on the edge of the infamous Bass Straight, the Dibley 10m needed to be tough and strong with emphasis put on structural integrity and safety. Performance, however, would not be compromised.
For qualifying races, Holmes and Dibley will be doing the Sydney/Lord Howe race starting on October5th as well as the Melbourne/Hobart on Boxing Day. Both will be done in the two handed division. If time allows, Babe' will be up at Hamilton Island in August but will be a late entrant as she is committed on other events before hand and it may not be possible to get her up there in time.
To further their time on board and to fine-tune the Polars for the design, Holmes will be doing as many short handed races as he can out of Melbourne, with Dibley flying over at various times for key races. In the meantime, Dibley will work with Roger "Clouds" Badham on pre-race strategy and weather routing for the Melbourne/Osaka so as to hopefully minimize the time spent sailing on the smallest entrant in the fleet, which starts out on March 15
th
2003
A few comments on why the yacht was named after a pig have surfaced from time to time and probably needs explaining. Karl Holmes supports a charity organization called "VSK" (Very Special Kids") that helps both children with life threatening illness and their families by hosting an annual piggy bank appeal with a pig as their logo. Hence they named the boat "Babe" (after the film) and will carry the pig logo on the hull to help gain awareness for the organization
Provisions on supervision and administration of maritime security on Ro-Ro ship's

Provisions on Supervision and Administration of Maritime Ro-Ro(Roll on-Roll off) Ship's Security was promulgated by Ministry of Communication of the People's Republic of China on May 20, 2002 and shall come into force as of July 1, 2002. The Provisions, containing 58 articles, shall be applicable to activities concerning supervision and administration of Ro-Ro ships' security within the maritime territory governed by the People's Republic of China.
Provisions on Ro-Ro in 58 Articles
The
Provisions
includes Chapter 1 general principles, Chapter 2 operator of ro-ro shipping, Chapter 3 ro-ro ships and crew, Chapter 4 inspection of ro-ro ships, Chapter 5 vehicles, cargo and passengers, Chapter 6 supervision and inspection, Chapter 7 penalties, and Chapter 8 supplementary articles.
According to the Provisions, operators of ro-ro shipping shall strengthen administration on safety of ro-ro ships, establish and improve a system of the administration on safety, and obtain the approval by the marine administrative authority of China. Ro-ro ships and crew shall get the qualification concerning safety administration. Ro-ro ships shall timely or specially apply for inspection in order to ensure marine safety of people and property, etc.
Wang Xuanjun
Beacon Law Firm
Email:
[email protected]
WebSite:
www.sino-laws.com/
Propguards: ongoing issue
We are including two divergent responses from our readers regarding the issue of mandatory requirement of prop guards. We were also notified of an awful tragedy pertinent to the subject of "prop guards" and have reprinted the article by the Cape Cod Times.

Reader Response 1:
After seeing the Australian race on Zodiac boat jumping ocean wave, that duct type apparatus around the propeller might be very useful, security speaking. Better to have a bump on the head and a big headache than have it slice up like a piece of salami. Propeller at 6000 RPM becomes a blade. Canadian Coast Guards are aware of the apparatus, could be useful for boat that respond to emergency during a boat accident in critical situation. In Canada a few years back on Lake St-Louis in Montreal near Dorval airport we had an incident at a Sailing school for youngster a sudden storm overturn 90% of the fleet and as the crash boat had to fight the elements , current ,wave ,boat, sail and pick up kids, one of them when under it and had his leg cut-off. It is something to think about. If you need design I will be oblige. Regards. Louis Joannette
http://v12.vweb.citenet.net/electri/
Reader Response 2:
Why do people always want to legislate in order compel others to comply with whatever they themselves judge to be a "good idea"? This is typical, Nanny knows best, socialism. By nature humans are individuals and free to do as they choose - and take responsibility for their actions. Leave boaties alone - we'll make our own decisions on what's necessary - and take the consequences. Skipper Ron Yacht Wavelength Bay of Islands New Zealand Permanent HOME of the AMERICAS CUP.
U.S. Quincy man faces charges in vineyard boating death

State police charge Quincy man after he leaves scene of fatal incident on Vineyard.

By DOUG FRASER
STAFF WRITER/ Cape Cod Times : www.capecodtimes.com
EDGARTOWN, Massachusettes - A Quincy man was arrested and charged in the death of another man in a boating accident yesterday.

State police said William O'Connell, 63, was at the helm of his 47-foot, high-performance boat Thunder Enlightening and had dropped friends and relatives off at a beach on the Chappaquiddick side of Edgartown Harbor, near the ferry pier at 3:50 p.m.

Police said one of the passengers, William B. Sanderson, 63, also of Quincy, attempted to climb back onto the boat and was caught in the propellers.

Police said O'Connell then fled the scene, returning to Oak Bluffs, where he'd been staying.

Edgartown Harbor Master Charles Blair came to the aid of Sanderson, who was taken to Martha's Vineyard Hospital where he was pronounced dead.

The Coast Guard followed O'Connell to his mooring in Oak Bluffs, where he was arrested by state police and Massachusetts environmental police. He was taken to Dukes County House of Correction in Edgartown and was charged with operating a motor boat and causing death, leaving the scene of a motor boat accident where a death occurred, operating a motor boat while under the influence of alcohol and operating a motor boat within 150 feet of a swimming beach.

He is scheduled to be arraigned today in Dukes County court.
Press Release Rotary Power International, Inc. And Safe Boats International, LLC

Announce Successful Demonstration of the First Rotary Diesel Marine Engine Wood-Ridge, New Jersey, Monday, July 15, 2002 – Mr. Ronald G. McKeown, President and CEO of Rotary Power International, Inc. ("RPI") and William Hansen, President and CEO of SAFE Boats International, LLC ("SAFE Boats") jointly announced today the successful demonstration of RPI's first prototype Series 70 250 HP Rotary Diesel Fueled Marine Engine. Mr. McKeown stated "The initial sea testing of the world's only 250 horsepower (HP) marine diesel fueled rotary engine was deemed an unqualified success by both RPI and SAFE Boats reaching speeds of over 40 miles per hour in a 32 foot prototype boat hull being tested for the U.S. Coast Guard. The Series 70 250 HP marinized diesel fueled rotary engine was first delivered to SAFE Boats in November, 2001 and it received a great deal of attention at the Seattle Boat Show held this year in January. The sea test results are being watched very closely by the marine industry worldwide. The small size, low vibration, light weight to horsepower diesel fueled rotary engine can bring about a new trend in boat manufacturing". Mr. Hansen stated that, "This could be the technology of the future. Our boats have proven to be the overwhelming choice of agencies such as the U.S. Coast Guard, Navy and other law enforcement agencies for their fleets. As a result of increased purchase orders, SAFE Boats International has expanded its production capabilities to accommodate annual requirements for as many as 200 diesel engines per year valued at up to $4,500,000. The benefit of SAFE Boats and other vessel manufacturers utilizing diesel engines is the power to weight ratio of the rotary engine. SAFE Boats wants to be the first boat manufacturer to purchase RPI's initial production engines next year. Our commitment is to provide our customers with the choice of one of the best marine diesel applications in the market place." Gary LaBouff, RPI's Vice President of Engineering and former Engineering Manager of John Deere Technologies' Rotary Engine Division stated, "T his creates many new boat hull design options and may enable boat builders to exceed the size and speed restrictions of existing technology. The engine's simplicity and few moving parts will allow for reduced maintenance and higher reliability. This prototype engine is the culmination of many years work at RPI and its predecessor John Deere, and is superior to any engine of this size produced in the past. RPI's plans are to deliver an upgraded Series 70 two (2) rotor production engine to SAFE Boats this coming fall for further testing in a 17 foot jet drive boat. Production of the Series 70 250 HP engines could occur as early as next year. RPI intends to begin field testing of the Series 70 four (4) rotor 500 HP version of the engine in the spring of 2003". Gary LaBouff further stated, "Within the next few weeks RPI will be demonstrating a prototype engine in a 24 foot boat in New Jersey, provided by one of our major shareholders. At the completion of this demonstration, the engine will be sent to Fort Lauderdale for demonstration and further testing prior to being placed on display in the October boat show in Florida." Also, underway in New Jersey is the development of a Series 580 two (2) rotor 1000 HP diesel fueled prototype development engine. This effort to provide a 1000 HP diesel fueled rotary engine for the marine and power generation markets is being led by John Mack, RPI's Vice President and Chief Engineer. Plans call for the testing of this engine early this fall. SAFE Boats is known worldwide for its exclusive 11 to 50 foot long full-sided foam stabilized hydrodynamic hulled watercraft. More information can be found on its website at www.safeboats.com. Safe Harbor Statement This press release contains "forward-looking statements" based on current expectations, forecasts and assumptions that involve risks and uncertainties that could cause actual outcomes and results to differ materially. These risks and uncertainties include price and product competition, dependence on new product development, RPI's ability to obtain sufficient funding to be successful, reliance on major customers, customer demand for our products, control of costs and expenses, general industry conditions and interest rate and currency exchange rate fluctuations. For a further list and description of such risks and uncertainties, see the public filings made by RPI with the Securities and Exchange Commission. RPI disclaims any intention or obligation to update or revise any forward-looking statements, whether as a result of new information, future events or otherwise. ROTARY POWER INTERNATIONAL, INC. One Passaic Street, P.O. Box 128 Wood-Ridge, NJ 07075-5595 OTCBB symbol: RPIN www.rotarypowerinternational.com FOR MORE INFORMATION CONTACT: Ronald G. McKeown, President and Chief Executive Officer, Rotary Power International, Inc. at (905) 888-0500, e-mail: [email protected]